HOW OUR PRODUCTS AND EXPERIENCE
Can Help Your Business
Data mining
Extract products details from any e-commerce site. Automated news extraction with scheduled recrawling and custom triggers.
Data analysis
Apply customized filters and post-processing scripts. Visualize your reports with power of Google Charts or HighCharts or get it printed in PDF and sent by email.
Fast deployment
Get your project running in few days and even hours. Hundreds of agents retrieving hundreds of thousands pages daily and can be scaled even more, transparently for a user.
---
Data storage
We provide cloud storage in different formats and access to your data via DB interfaces and APIs for major programming languages.
Tracking tools
Track progress of your project in real-time. Сollect data one-time or set schedule for non-stop data update. Get notified by email or SMS alerts.
Customization
Open architecture allow to extend functionality with 3rd-party open source extensions and plugins. System can be installed on your servers and customized according your project needs.
"Without big data analytics, companies are blind and deaf, wandering out onto the web like deer on a freeway." – Geoffrey Moore

"The goal is to turn data into information, and information into insight." – Carly Fiorina

"In God we trust. All others must bring data." – W. Edwards Deming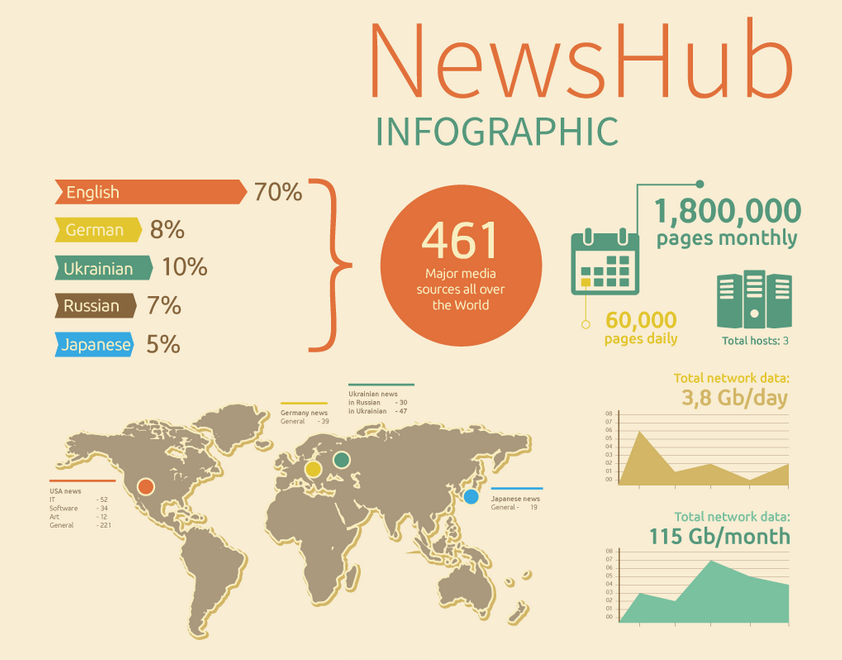 The Largest Source
of Insights and Happenings
---
Informative charts unveiling news topics coverage and 6-hours automated PDF digests
---
NewsHub is arguably the largest news database and the source of the latest news and happening across the globe, crawling news from over 650 online sources in different languages, with a daily extract of over 90,000 news pages. The platform allows for the generation, download, and sharing of pdf digest by email. News database currently available via API.
---
Personalized news discovery experience
---
Latest tech-related news matters to you
---
Many personalized news services felt too narrow, focusing too much on one type of news. What if we could do one better, and create a service that delivered news covering a broader, yet still interesting, range of topics? The cherry on top: tailoring it to the individual reader.
SNATZ uses original technology to solve the most common filtering problem - Long Tail and Filter Bubble.
---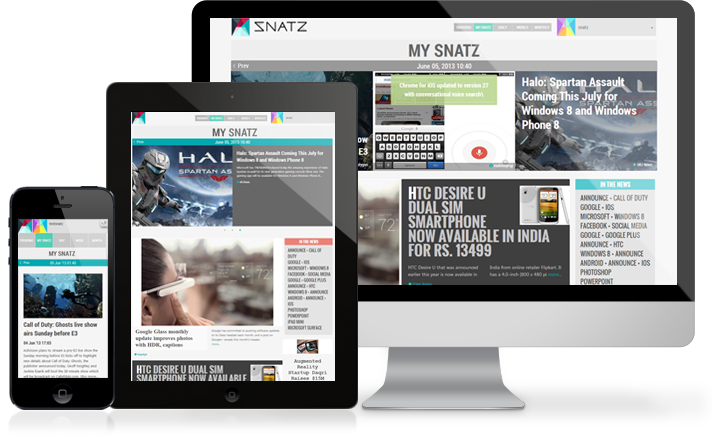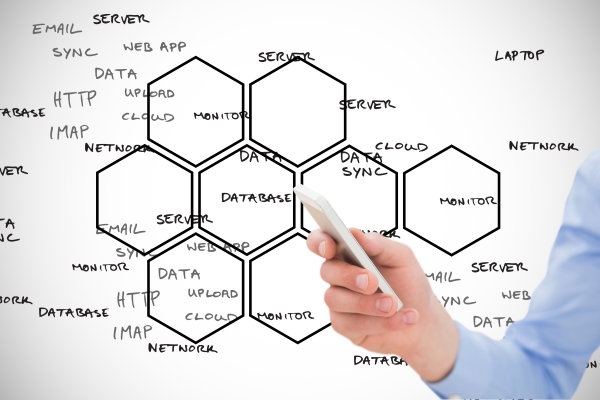 Distributed Crawling Solutions for Your Business
---
Powerful and sophisticated engine for hierarchical networking and parallel data processing systems
---
Developing since 2006, Chaika used in many projects to deploy custom network mesh or distributed network cluster structure. Supports native reducing of multiple nodes results (aggregation, duplicates elimination, sorting). Has build-in powerful full-text search engine and data storage, provide transactions-less and transactional requests processing, flexible run-time changes of cluster infrastructure, multiple languages bindings for client-side APIs, and more.
---
Watch the video
Tags Reaper is advanced automated scraping tool we developed using top-notch technologies and out 10 yeas experience in data collecting and processing.
---
Сollects over 90,000 news articles daily from 650 major news sources. We offer custom reports on topics popularity and news trends for any period of time.
Quick facts about NewsHub
News in different languages
Sentiments detection
Customized graphs and charts
6-hours PDF digests
API access and custom reports
Social Networks rating analysis